In September 2007, Kate was appointed as our Patron.
Kate represents Aussie Hands at events, is a mentor and inspiration to our young members. Kate has a hand difference.
Welcome all members, families and friends of Aussie Hands!
The Aussie Hands website is a great place to find information about hand differences and most importantly a great place to network. On the website you will find useful links and resources that provide important information to help answer any questions you may have. From research articles, personal stories, support group networks, to kindergarten and school starter kits, Aussie Hands provides an abundant variety of knowledge, collated by experienced professionals in the field. Another great way to stay in touch with the Aussie Hands community is to join the Aussie Hands Facebook page, with contributions from Aussie Hands staff and members, along with updates on activities and events in your state throughout the year!
Kate
Kate knows no limits when it comes to adversity and achievement. She demonstrates an energetic, bright and enthusiastic character and has achieved more than others would in a lifetime. Kate is an elite athlete and Paralympian. She competed at Rio Paralympic Games 2016, placing 5th in triathlon. Prior to this Kate represented Australia for several years in the sport of Dressage, and represented Australia at the World Equestrian Games in Kentucky, USA 2010. Kate is a registered Psychologist and is passionate about helping others reach their full potential, whether it is in sport, career or personal goals. Kate is also a Motivational Speaker where she utilises her skills and experience to guide others to make informed decisions to achieve desired goals and outcomes.
Well 2019 is in full swing, and by no means are things slowing down for me.
Apart from loving the role of becoming a mother, I am working back into triathlon and had little time off from working in the area of culture and inclusion.
Some would say burning the candle at both ends – but for me to achieve the goal of representing Australia at the Tokyo 2020 Paralympics, and to be able to fund the extra support I require around training and travel to races with a baby –  time is of the essence and I am busy juggling it all.
I am loving motherhood, such a joy and I am so glad to be able to now put the title 'mother' on my CV. I recently won the Oceania Champs and my first World Cup for 2019 in triathlon and hope to be on the start list for the next big race of the year in Milan, Italy in April. I am hoping to lift my world ranking to ensure I get consistent race starts this 2019/2020 season with the qualification period for Tokyo 2020 starting end of June 2019 till June 2020. A full list of the paratriathlon events I am hoping to race this season are below.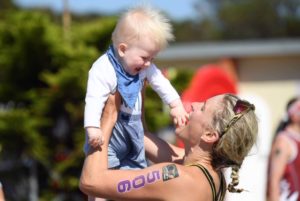 To follow my journey and what I get up to, please jump on Instagram and 'follow me' @katedoughty01 and also on Facebook @katedoughtytriathlon. My new website has just been launched www.katedoughty.com – please jump on and have a look! I am currently seeking sponsors towards Tokyo 2020, so please feel free to share within your community!
Many thanks, and I hope to see you all soon.
Kate
World Championships:
31 August-1 September – Lausanne, Switzerland
World Paratriathlon Series:
late April – Milan Italy
18-19 May – Yokohama, Japan
Paratriathlon World Cups:
2-3 March – Devonport, Australia
15-16 June – Besancon, France
17-18 August – Tokyo, Japan
7-8 September – Banyoles, Spain
Kate Doughty – Patron of Aussie Hands (short version)